Guilliams Vineyards
by John Guilliams
Like many of our neighbors, we moved to Spring Mountain not in search of a home near a job; we came in search of a place to feel at home. It is a place of great natural beauty and diversity, of vigorous verdant forests and wildlife, of breathtaking quiet, or hair-raising storms. Spring Mountain seems to be Mother Nature's workshop.
In 1978, my wife Shawn and I left behind our life in the Bay Area. I had attended U.C. Berkeley where I majored in Engineering and Conservation of Natural Resources and built a home in the Berkeley hills. While Shawn was pregnant with our first child I built a garage apartment on our newfound ten acres on Spring Mountain. We intended to design and build our main house, but first, I needed a job. I became a cooper, and later an owner of Barrel Builders in St Helena. Within two months we were making home wine with co-workers.
Our hillside land had originally been planted by the Conradi family about 1890, but by the 1930s the Depression had taken it toll and the vineyard had been abandoned. The forest regrew, but the rows of short redwood grapestakes remained.
Wine and its culture can have an infectious effect on the mind, body, and soul of mankind, and so it was with me. The infection was complete, with symptoms of passion and an unquenchable thirst for knowledge.
The path before us seemed clear. Our neighbors – Herman Hummel, Fred Aves, Stu and Charley Smith, Marv Atchley and Pete Minor were consistently generous with their insights and help. That first spring, Marv Atchley loaned us his bulldozer and the work began. Planting rootstock was a family affair. I cleared and prepared the land in the evenings after work, and was joined on weekends by Shawn and our parents to plant. In the second year our toddler son, Thomas, helped with the watering. We couldn't have done it without family and friends.
Our primary goal was to make a Cabernet Sauvignon blend. I located good selections of Cabernet and Merlot for grafting stock, and wanted some Cabernet Franc. It was so rare in Napa in 1979 that I went to U.C. Davis to obtain budwood from their two mother vines.
We planted a total of 7 acres to 80% Cabernet Sauvignon, 10% Merlot and 10% Cabernet Franc. Our vineyard is high above the Napa Valley at an elevation of 2000 feet, with four distinct soils, and several microclimates. Each variety is grafted in blocks best suited to their needs, i.e. Cabernet Sauvignon where it has the most sun, and Merlot where it is cooler. For our handcrafted wines, I heartily support the concept thought of as winegrowing, where grape growing and winemaking are complimentary with the same ultimate goal. We strive to farm sustainably and do most of the work ourselves. I am a member of the committee that wrote the Code of Sustainable Winegrowing Practices for the California Wine Institute, as well as a Director of the Napa County Farm Bureau.
We bonded the winery in 1983, first naming our property La Vieille Montagne, in honor of Shawn's French heritage. Our first Estate Spring Mountain release was our 1985 Cabernet Sauvignon. We were pleased with its quality and gratified that the hard work was paying off.
We continue many of the winemaking practices that we began in 1985. Harvest is of ripe fruit, identified on groups of vines, not rows or blocks. It can take three or four weeks to finish with our small seven acre vineyard. Fermentation is in small lots of typically less than one ton which are punched down by hand. Barrel aging is for two years in French Oak only. Our focus continues to be the Cabernet blend of about 1000 cases with additional small bottlings that may include a Reserve, Merlot or Cabernet Franc. All are Estate Bottled and sold under the Guilliams label.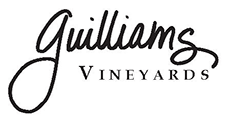 3851 Spring Mountain Road
St Helena, CA 94574

Tasting by appointment only at Guilliams Vineyards
Phone: 707.963.9059 www.GuilliamsVineyards.com shawn@guilliams.com