Paloma Vineyard
My parents, Barbara and Jim, always had an interest in wine, both in its making and its consumption, and in food and gardening. In 1980, they were living in Midland, Texas, and began thinking about a retirement home. They decided to start looking for a small property in the Napa Valley where they could build a home and plant a small vineyard. This dream was realized in 1983 when a friend of theirs, Dan Duckhorn, called and told them about the property now known as Paloma Vineyard. When you operate a vineyard and winery, you never retire!
The property is located five miles northwest of St. Helena at the top of Spring Mountain. In the last half of the 19th century it was a vineyard, but was allowed to return to forest around the turn of the century. The purchase of this raw land was the beginning of an odyssey that is ongoing, ever changing, but with one goal—to grow the best grapes possible and make a wine that reflects the terroir of Paloma Vineyard, Spring Mountain and Napa. They were rewarded for strength and determination, receiving the Wine Spectator's 2003 TOP PICK over 15,000 other wines from around the world.
For those interested in such things: the elevation of Paloma Vineyard is 2060 feet above sea level at the bottom of the property and 2240 at the top; exposure is generally east with many variations; and the soils are derived from the Sonoma volcanics and from Franciscan sandstone. Total acreage is 17 acres with 15 acres planted in Merlot and Cabernet Sauvignon.
In May of 2009, a few days after his 78th birthday, my father, Jim Richards, passed away after a two-year battle with cancer. Sometimes, I still sense him in the vineyard and winery—watching over my world.
As of this writing in 2010, I have worked for seven years side-by-side with my mother, Barbara, in the vineyard, and with my father in the winery. Mom taught me to respect the vines as if each were one of my children—over 7,500 in total, which she claimed, "I can name all 7500 of my children." I won't make that claim! Dad taught me how to let the wine make itself with minimal intervention. We are fortunate to own a very special piece of earth on Spring Mountain that produces extraordinary fruit.
Sadly, Dad is not here to lend an ear when I need advice, but I have a valley full of talented winemaking friends always willing to lend support. Nothing has changed. Until her death my mother and I worked side-by-side to ensure the quality in the vineyard is reflected in the beauty of the wine. We spend the vast majority of our time in the vineyard—winegrowing. We harvest and bin ferment in small lots, again, letting the wine make itself.
In April of 2016, my mother, Barbara, died of complications caused by multiple strokes. The wine industry and thousands of long-term clients applauded her kindness, strength and dedication. She is missed by many! I cannot say enough how much I appreciated the many, many kind and thoughtful comments you all shared with me. Thank you.
I spent the last 14 years learning the vineyard from my mother and winemaking from my father. I officially made my first stand-alone vintage in 2007 as dad fought cancer. I became the one-man tasting staff in late 2014 as mom lost the ability to speak due to a series of small strokes.
My parents left me an amazing legacy—one that I will continue to maintain—farming, winemaking, hospitality—at levels that would make them both proud. Little will change! I can promise you that.
What we all love most about this lifestyle—is you—the people we meet from all over the world. You make the food and wine taste better and always remind us of how lucky we are to live in paradise! To all of our many friends and loyal wine buyers, we thank you for your ongoing support.
After harvest in 2016, I pulled an acre of aged Merlot and will plant 600 Cabernet Franc vines in the spring of 2017. Napa Cab Franc seems to get better every year and several very good ones come from Spring Mountain. So I am excited by the possibilities! Patience please! It will be 8 years before I will have a Paloma Estate Cabernet Franc to share. It will be called "Ode to Barbara" to ensure her ongoing support!
. . . on behalf of my mother and father, Sheldon Richards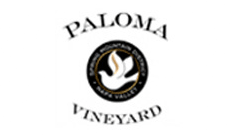 Paloma Vineyard
4013 Spring Mountain Road
St. Helena, California 94574
Tastings by appointment only 10:00 a.m. — 4:00 p.m. PST Monday — Saturday
Phone: 707.963.7504 info@palomavineyard.com palomavineyard.com