Lokoya
The Lokoya Story
 The name Lokoya honors the native Wappos who lived on Mount Veeder and the surrounding Mayacamas Mountains, on the western side of Napa Valley. The Wappos named their home Lokoya, which, as legend has it, means "the place where geese fly over."
 Lokoya produces limited quantities of appellation-specific Cabernet Sauvignon from low-vigor mountain vineyard sites in Napa Valley. By selecting only the finest vineyards and farming each parcel to accentuate its unique attributes, Lokoya produces powerful and complex wines that reflect the distinct character of each appellation in which they are grown.
 The Jackson-Banke family founded Lokoya in 1995 to showcase powerful fruit from distinct Napa Valley appellations. The late winemaker Greg Upton set the wines on course before handing the reins to Marco DiGiulio in 1997. Christopher Carpenter became Lokoya's winemaker in 2000 after working as the assistant winemaker for three years. In October 1998, Lokoya made its debut with four Cabernet Sauvignons from the 1995 vintage. Each bore a separate Napa Valley mountain appellation on its label.
Winemaker Chris Carpenter believes that the art of great winemaking is knowing when to intervene in the vineyard and the cellar, and when to leave the fruit alone so that it can express itself as naturally and eloquently as possible. Winemaking nurtures the optimal expression of the fruit, pampering ideally ripe fruit with gentle handling at every turn. Extensive sorting, native yeast fermentation, small basket pressing, and aging in small French oak barrels coax what is irreplaceable about each vineyard.
 The Vineyards
Vineyards are the foundation of quality. Lokoya has located choice mountain vineyard sites within the Napa Valley appellation that yield powerful and densely flavored Cabernet Sauvignon. The vineyards often cover steep slopes of rocky soil that limit vigor. Stressed vines yield as little as two tons per acre, but make up in quality what they lack in quantity.
 Harnessing the concentrated fruit flavors that result from high-elevation sites with meager soils, while taming the intense tannins from these small, thick-skinned grapes, requires skill and insight.
 The Spring Mountain vineyard sits at an elevation of 1,800 feet and has 24 acres planted. This patchwork vineyard site is planted meter by meter on uplifted marine sedimentary soils. A gap in the ridge allows cooling fog and air to spill over the hillsides, providing an ideal environment for Cabernet Sauvignon. This combination of exposure, soils, and climate is responsible for the red-fruited elegance of this bottling. Highly sought after by collectors, the wines of Lokoya can be enjoyed for decades to come.
The Estate
After sourcing high-quality fruit from Spring Mountain for a number of years, the family jumped on the opportunity to purchase a vineyard and winery on Spring Mountain, providing Lokoya its own home.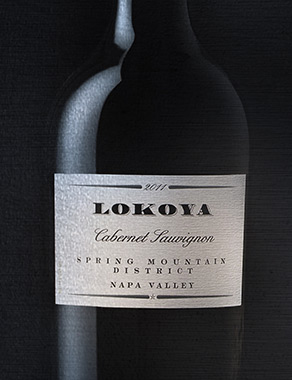 Tastings at our estate are by appointment only. Please contact us to inquire about availability.
Bradley Wasserman Estate Manager 707.948.1968 Bradley.Wasserman@Lokoya.com