Paloma Vineyard
A View from the Top
My wife, Barbara, and I bought twenty acres of undeveloped land at the top of Spring Mountain in 1983. Now the highest vineyard elevation in the Spring Mountain District (AVA), the Paloma property was a vineyard in the late 1800s, but had lain fallow for most of the last century. We planted fifteen acres of Merlot and Cabernet Sauvignon there between 1985 and 1988, and a small block of Syrah in 1991.

In the early years we sold our fruit to several Napa Valley wineries. Then, in 1994, we reached an agreement with our friends and neighbors, Carolyn and Jim Pride, to make Paloma Merlot for us at their winery, from a portion of our production. In 1996 we added Syrah to this program. Pride winemaker, Bob Foley, was kind enough to let me work in the cellar there with him – including an early lesson on how to connect a hose to a pump!

In 2000 Barbara and I decided it was time to make wine on our own, using all of our own grapes. We built a small winery that summer, which was completed just in time for the 2000 harvest. The first day of crush was a nightmare – the new equipment didn't work properly, we didn't really know what we were doing, and by the end of the day we felt we had made a terrible mistake. But after a few hours of sleep, things looked better, and with a lot of help and advice from many different people, we completed the first crush. The following vintages were easier – even though we still have a long way to go, we keep learning and gain confidence each year.

Great Fruit Makes Great Wine
We believe that the strongest aspect of the Paloma wine program is concentrating on the vineyard, and trying to grow the best fruit possible. We pick only those areas where grapes have reached physiological maturity, returning to the vineyard ten to fifteen times over four to six weeks. This more than anything else establishes the character of our wine. As a matter of winemaking style, we use only one-third new oak barrels for aging. This is because we ourselves do not like heavily oaked wines, and believe that there are enough people around who agree with us to support our style of winemaking.

In 2003, our son, Sheldon, joined us fulltime and our 2001 Paloma Merlot was chosen "Wine of the Year" by Wine Spectator magazine. It was a great honor that Barbara and I had hardly even imagined, but one that we will always remember. This was only the second vintage we had managed on our own, so it felt like winning the lottery on our second try! We want to thank all of our old friends, and also the new friends we have met since we received this honor, for their continuing support of Paloma Vineyard.
In 2004 our Syrah block was so infected by untypa that we pulled the vines and planted Cabernet Sauvignon. Our first Cab vintage was in 2008 and depending what Mother Nature provides, we release a small number of cases each year.
Jim Richards

Sadly, my father passed in May of 2009.  He is missed greatly by friends, neighbors and the wine community.  He will always be remembered for the great vintage of 2001, but also for achieving the Wine Spectators TOP 100 three times in six years—2003, 2004 and 2008! Mom and I still work side-by-side in the vineyard and winery following the family tradition of carefully managing the vineyard and allowing the wine to make itself from the great fruit Paloma vineyard provide.
Sheldon Richards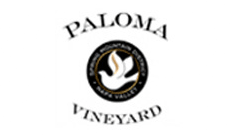 Paloma Vineyard
4013 Spring Mountain Road
St. Helena, California 94574
Tastings by appointment only 10:00 a.m. — 4:00 p.m. PST Monday — Saturday
Phone: 707.963.7504 info@palomavineyard.com palomavineyard.com